Termites or "white ants" are highly destructive timber pests that can cause major structural damage to homes and businesses.
According to the CSIRO, Perth residences are at a high risk of termite infestation (see below), with a recent survey finding that approximately 1 in 5 Western Australian homes become infested with termites each year.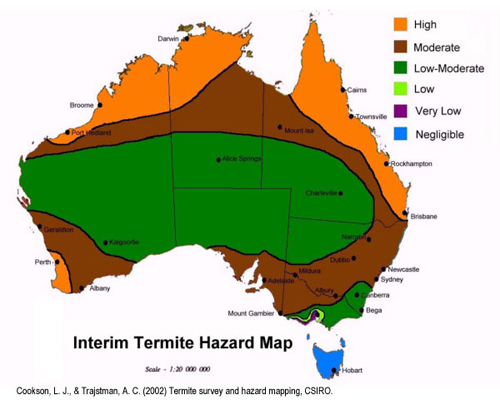 Termite infestation and/or damage is not covered by household insurance policies and therefore it is imperative that Perth homeowners be aware of the need to have their homes inspected and treated for termites.
At WA Pestsaway Joondalup, all our pest control technicians are trained in conducting full termite inspections and barrier treatments, and all our work is carried out in accordance with the Australian Standard AS3660.2. It is recommended that termite inspections be carried out at least once a year, although in higher risk areas more frequent inspections are strongly recommended.
WA Pestsaway Joondalup also offers a 12 month service warranty on all residential termite barrier treatments. This means that if live termite activity is found within 12 months of the initial treatment date, WA Pestsaway Joondalup will return and carry out any necessary additional termite treatments - free of charge.
For all residential termite inspections and barrier treatments, please call WA Pestsaway Joondalup on 0419 374 374